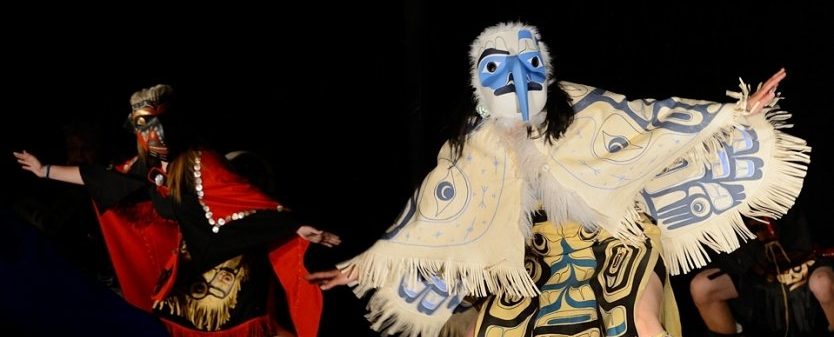 Git Hayetsk Dancers (Colombie Britannique)
Outlaw Mask
Panel
May 27, 2013 at 19:30
P'tit Bonheur
Amir Khadir, Véronique O'Leary, Denis Poitras, André Poulin
5$
Tickets
On-site only
The mask – an art form, a sacred object, and cultural symbol – became a wonderful means of expression and protest from young and old during the printemps erables. Suddenly, the mask was associated with danger, disorder, and violence; capturing the government`s attention, a new law was enacted, making the wearing of masks during protests illegal in Quebec.  After this forceful enactment, we explored relationships between the mask and concepts such as liberty of expression, freedom, and justice, throughout the world, past and present.
Whether the mask was used by the ancient Greeks, the Romans, the Amerindians, or by contemporary Europeans, whether inspired by artistic exploration, or popular culture, what is (or was) the mask`s role in terms of statement, and how much liberty of expression did the mask enjoy in the past and today?  Our guests, issuing from diverse fields such as the arts, politics, law, and social sciences will bring their point of view to the discussion.
After the round table discussion we anticipate a lively discussion between the audience and our guests.
Moderator: Joël Nadeau
With:  Amir Khadir, deputy of Mercier for Québec Solidaire
Denis Poitras, lawyer, Association of Progressive Lawyers
Véronique O'Leary, instructor in mask theatre
André Poulin, historian, University of Sherbrooke